Hajj Step-by-Step: A Practical Guide
To assist with your sacred journey to Makkah, this Hajj guide offers useful advice for lodging, transportation and personal safety, as well as other practical Hajj information.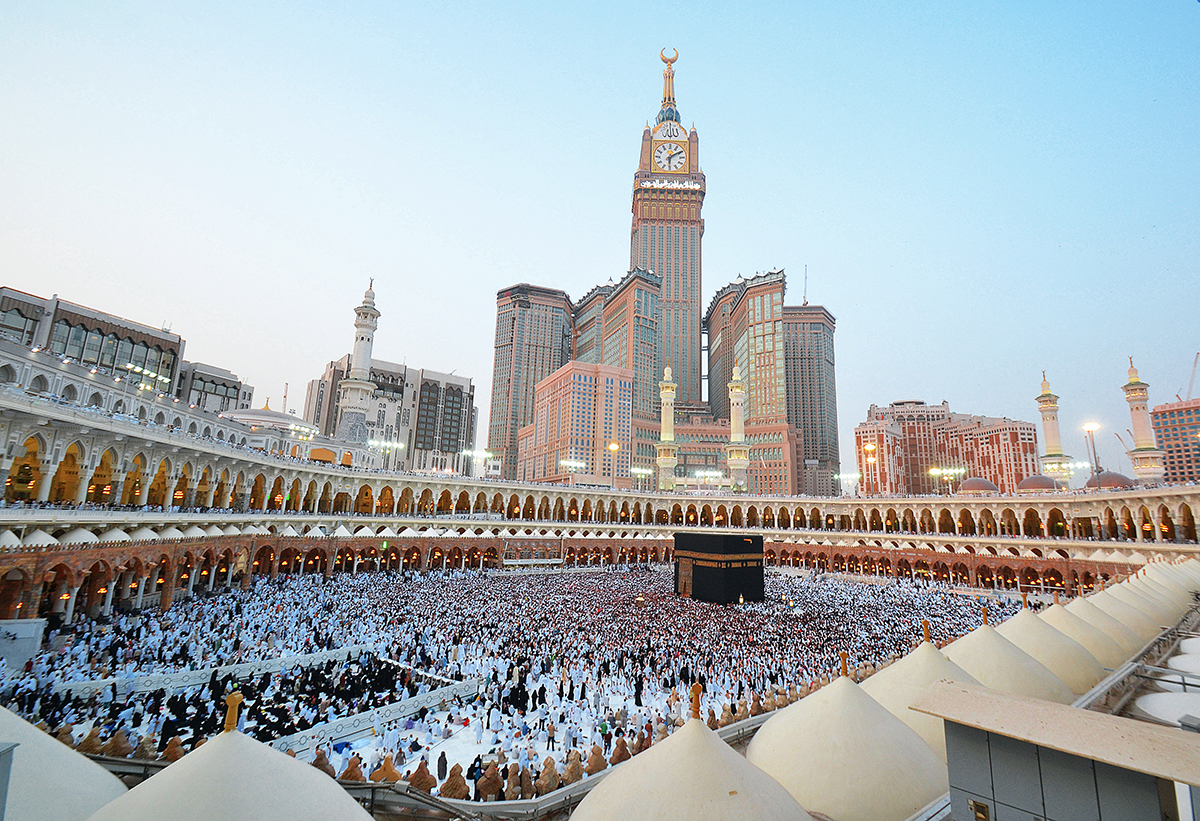 Introduction
Patience is one of the best Hajj tips to remember. You will be among a multitude of other pilgrims. Try to remain calm and seek less-crowded areas. You also will have a more tranquil trip if you know what to expect and how to navigate the pilgrimage.
Walk, Bus or Train on Your Muslim Pilgrimage
One of the most convenient ways to complete the Hajj steps is aboard the Al-Mashaaer Al-Mugaddassah Metro. Known as the "Hajj Metro," the rail service has modern air-conditioned trains that transport pilgrims between the holy sites of Makkah, Mina, Mount Arafat and Muzdalifah. Speed is a big plus. In mere minutes you can complete a journey that takes hours on foot.
Given congestion along the Hajj route, walking can actually be faster and more convenient than bus travel. Buses offer relative comfort, but they can break down or get stuck in traffic for hours on end. Walking requires more exertion but can enhance your spiritual experience – with the sacred ground beneath your feet and fellow pilgrims at your side.
What to Expect in Mina
The first stop after your initial Holy Kaaba rite, Mina serves as a base for much of your journey. The sight of white tents stretching to the horizon can be both impressive and imposing. While not luxurious, communal tents provide sufficient amenities for comfortable stays. Air conditioning staves off the desert heat. Electricity powers fluorescent lights and wall outlets for charging mobile devices.
Tents are grouped into camps according to country. Each camp has a kitchen, washing facilities and bathrooms (bring your own toilet paper). Breakfast is often a boxed meal of bread, fruit and pastries. You can expect a dinner of rice and meat. Beverages and snacks are available at the kitchen throughout the day. In case you forget where your tent is or become lost along the sprawling network of paths, your badge is color-coded for your country and has your camp's number on it.
Evening Under the Stars in Muzdalifah
After Hajj steps in Arafat, you will spend the night on the hardscrabble plain of Muzdalifah. This is one of the best-known and least-comfortable parts of the journey for many. Rather than a sleeping bag, it's a good idea to buy a cheap sleeping mat in Makkah. An inflatable pillow will also be useful.
While all pilgrims spend a night under open skies, not all spots in Muzdalifah are equal. Some travelers gather in cramped areas by roads, where fume-spewing buses pass by throughout the night. Others are in spaces where travel organizers have erected wooden privacy walls and set up soft mattresses with sheets, blankets and pillows. A good organizer will even provide the pebbles needed for the upcoming Stoning of the Devil ritual.
Safety During the Stoning of the Devil
Exercise caution while performing the Stoning of the Devil ritual in Mina. In years past, the rush of pilgrims performing the rite has led to stampedes. The government of Saudi Arabia has since instituted stronger safety measures, but it's still a good idea to be mindful of crowd issues as you approach the site at Jamarat Bridge. Extreme weather is also a concern. Daytime temperatures can climb to 106°F (41°C) under an unrelenting sun. You should bring an umbrella for shade and plenty of water to avoid dehydration.
After the Pilgrimage
After performing the Farewell Tawaf at the Grand Mosque, you are free to explore. Many pilgrims visit Madinah, home to the final resting place of the Prophet Muhammad (PBUH). A VIP bus service can take you from Makkah to Madinah in five hours. If you're looking for Hajj souvenirs for loved ones back home, there are a variety of shops along the streets by the famed Prophet's Mosque.
As you prepare to depart for home, it's a perfect time to reflect on the pilgrimage, your stronger relationship with Allah and the deeper understanding of Makkah's heritage you will carry with you on your journey through life.